Going Green Agenda
Bamboo is viewed by visionaries as the future of the material industry and we think it will largely play a key role in rewiring society toward a green economy. This vision places an immediate and urgent responsibility on developers, researchers, and government institutions to redefine policies in favor of large plantation development. To serve the greedy demand for huge bamboo resources to satisfy its thirst, global hi-tech bamboo-based industries offer a great window of opportunity for futuristic big-thinkers who need a safe haven to invest. Ghana Bamboo Bikes Initiative sees the future from today and hence has started an ambitious agro-ecological bamboo plantation development project in Kunso, the Brong Ahafo region of Ghana, covering an expanse of nearly 200 hectares of land.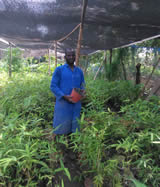 The rich resource base is partly intended to contribute to restoration of the degradation, deforestation and biodiversity loss which run rampant in the Brong Ahafo region, provide feedstock to emerging hi-tech projects planned for execution in the foreseeable future as well as serve the agricultural needs of the indigenes as an archetypical demonstration of sustainable land management. If we get our sums right, we estimate that more than 1500 youths (both men and women) will be absorbed by the busy projects (bio-energy & electricity, solar-powered bikes, furniture and artifacts), created around the available resources to be harvested from the bamboo eco-forest.
Prototyping of Solar-powered Bikes
Our innovative bend and quest for product optimization has led us into collaboration with partners in Santa Clara University to upgrade the architecture of our super-crafted bikes through integration of solar systems. The end-product is intended to serve a larger target in Africa and other tropical countries. The first batch of the S-powered Bikes is scheduled to be launched in the first quarter of 2017 after the serial test is completed.
Bamboo Bio-Gasification & Electricity Generation
Biomass has been a major energy source, prior to the discovery of fossil fuels like coal and petroleum. Even though its role is presently diminished in developed countries, it is still widely used in rural communities of the developing countries for their energy needs. In this era of the new millennium, bamboo gasification has evolved as a start-of-the-art technology and it can compete with some of the best technologies in the world. Through prospective negotiations with consultants in the Netherlands, we have worked out the blueprint of bamboo gasification for electrification of rural Ghana. This project is purported to reduce the pressure on the national grid and extend lighting to far-flung corners of selected communities in Ghana.