BERNICE DAPAAH – FOUNDER AND CEO

Bernice Dapaah is a serial award-winning entrepreneur and a passionate advocate of smart mobility systems. Recognized internationally as a climate trailblazer, she has spent several years in Ghana and across the globe advocating for a regional shift toward eco-mobility and integrated transport in keeping with the ethos of the Sustainable Development Goals (SDGs).
Her early interest in bamboo led to rigorous experimentation and innovation of a green, functionally robust alternative to conventional bicycles. For her contribution to bamboo industrialization, she was appointed as Bamboo Ambassador by the World Bamboo Organization in 2015 and has since been an active advocate for regional integration of bamboo. She has recently been crowned as one of the Most Influential People of African Descent (MIPAD) and is now an alumnus Young Global Leader of the World Economic Forum.
Bernice is also a Fellow of the Harvard University's Executive Education and Oxford Transformative Leadership Program. She has been honored with the World Entrepreneurship Forum's "Entrepreneur for the World Award" for her impact on society and the capacity to change the world. She currently holds a Master's Degree in Development Management and a BA in Business Administration (Marketing) from the Kwame Nkrumah and Christian Service Universities respectively.
---
ASANTE ERIC – MASTER TRAINER AND ASSISTANCE PRODUCTION MANAGER

He is a self-motivated and highly ambidextrous young man with unique craftsmanship in industrial mechanics. He has a several years of experience in bamboo frame-building technology and design thinking. He is noted to be a great lover of machines and fond of testing new ideas as well as attracted to new challenges. He has successfully championed the development of prototypes for several models of frames and other bamboo-based products in our catalog. As the Assistant Production Manager and Master Trainer, he is a valuable asset in monitoring our process and quality control. His legacy is found in the product of his nimble hands which are so admired by our clients.
---
JASONAH ESINU – DIRECTOR OF INNOVATION AND DEVELOPMENT

Jasonah Esinu Adzo Dzomeku is a spirited and vocal young woman who is emerging as an enterprising figure and has carved out her own niche in the Renewable Energy Industry. Her years of experience combined with a unique craftsmanship and aptitude both in academia and industry has won her a reputation as a popular face in the energy and social sector. As a Director of Energy Innovation & Development for Ghana Bamboo Bikes Initiative, she has become a figurehead in our solar/bio-energy projects and private negotiations.
---
ANOWA AUGUSTINA – LEAD PROGRAMS OFFICER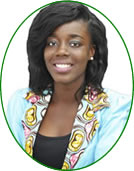 Anowa Augustina is an enterprising young woman with a strong aptitude for leadership in social development and project management. In her capacity as a front-line team leader, she possesses an arsenal of skills in project planning, evaluation, and cross-cultural communication that enriches her professional portfolio.
She has demonstrated a superb entrepreneurial acumen as co-founder of Better Life Foundation and has led the implementation of several community-level projects for Ghana Bamboo Bikes Initiative, working in tandem with the Director of Innovation & Development. She is appraised as the Lead Program Officer, closely involved with the implementation of all community-based sustainable energy and demand-driven projects. To earn her BA in Social Work at KNUST, Anowa also became proficient in international relations.
---
AMOS AGYAPONG – HEAD OF PRODUCTION & MASTER TRAINER

Amos Agyapong is a Distinguished Alumni of the Ghana Institute of Surveyors with impressive dynamism in professional work ethics. Working in several corporate bodies for skills enhancement, he eventually became the Assistant Quantity Surveyor of Ghana Highway Authority with prior experience as a Frontline Manager of Kingdawsco Ltd. Through his years of experience, his unique skills in Production Planning, Procurement, and Quality Control has earned him the position of Production Manager at Ghana Bamboo Bikes Initiative where he oversees local and international contractual partnerships and plans production lines. With his aptitude in project implementation and masterful craftsmanship, he has successfully trained many international interns in corporate work scheduling, systems inventory, R & D, monitoring, and evaluation.
Amos holds a Higher National Diploma in Building Technology from the Ho Polytechnic and is currently pursuing Bachelor of Science in Construction Technology Education at the University of Education, Winneba, Ghana.