BERNICE DAPAAH (FOUNDER AND CEO)

Described as a sensational Young Global Leader of the World Economic Forum and Alumni of the Harvard University's Executive Education Program, Bernice Dapaah is a seasoned Ghanaian with an upward climb in social entrepreneurship.
She holds a Diploma in Human Resource Management and Marketing from the Institute of Commercial Management UK and Bachelors in Business Administration from the Christian Service University College in Kumasi Ghana. She has over a decade work experience in both the profit and non-profit industries.
Bernice is a member of the World Economic Forum Global Agenda Council on Biodiversity and Natural Capital made up of the world's foremost intellectual network, convening the most relevant and knowledgeable thought leaders from business, government, academia and civil society to address key global issues.
She was named as an Ambassador of the World Bamboo Organization having earlier on in the year been appointed as a member of the prestigious Global Teacher Prize Academy and has been honored with the World Entrepreneurship Forum's "Entrepreneur for the World Award" for her impact on society and capacity to change the world.
She sits on the advisory boards of World Intellectual Property Organization-Green (WIPO Green) in Switzerland. She is skillful in project implementation, monitoring, training, assessments, reviews, baseline surveys and evaluation. In her capacity as the CEO, she ensures that project design and implementation are scientifically informed and she is responsible for monitoring and evaluation mechanisms, processes and targets related to the project and provides feedback and improvement advice to project teams.
---
AMOS AGYAPONG – (HEAD OF PRODUCTION / MASTER TRAINER)

Amos Agyapong, is a Distinguished Alumni of the Ghana Institute of Surveyors with impressive dynamism in professional work ethics. Working in several corporate bodies for skills enhancement, he later became the Assistant Quantity Surveyor of Ghana Highway Authority with prior experience as a Frontline Manager of Kingdawsco Ltd. Through years of experience, his unique skills in Production Planning, Procurement and Quality Control has won him the position of Production Manager at Ghana Bamboo Bikes Initiative overseeing local and international contractual partnerships and planning of Production Lines. With his aptitude in project implementation and masterful craftsmanship, he has successfully trained a significant number of international interns in corporate work scheduling, systems inventory, R & D and monitoring and evaluation.
He holds a Higher National Diploma in Building Technology from the Ho Polytechnic and currently pursuing Bachelor of Science in Construction Technology Education at the University of Education, Winneba – Ghana.
---
JASONAH ESINU (DIRECTOR OF INNOVATION AND DEVELOPMENT)

JASONAH Esinu Adzo Dzomeku is a spirited vocal young woman who is emerging as an enterprising figure who has carved out her own niche in the Renewable Energy Industry. Her years of experience combined with a unique craftsmanship and aptitude both in academia and industry has won her a reputation as a popular face in the energy and social sector. As a Director of Energy Innovation & Development for Ghana Bamboo Bikes Initiative, she has been a Figurehead in our Solar and Bio-Energy projects and private negotiations.
---
ANOWA AUGUSTINA (LEAD PROGRAMS OFFICER)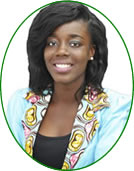 Anowa Augustina is an enterprising young woman with a strong aptitude for leadership in social development and project management. In her capacity as a frontline team leader, she possesses an arsenal of skills in project planning, evaluation and cross-cultural communication that enriches her professional portfolio.
She has demonstrated a superb entrepreneurial acumen as co-founder of Better Life Foundation and has led the implementation of several community-level projects for Ghana Bamboo Bikes Initiative and works in tandem with the Director of Innovation & Development. She is appraised as the Lead Program Officer closely tied to the implementation of all community-based sustainable energy and demand-driven projects. She read International relations for her B.A Social Work degree at KNUST.
---
IBRAHIM NYAMPONG – (TECHNICAL ADVISOR/MASTER TRAINER)
Ibrahim is a veteran in the bamboo bike industry in Ghana. As a mechanical engineer by profession, he brings advanced designs and development skills on board at the Bamboo Bike Project.